STEAM LAUNCH
Date announcement coming soon!
Sign up below for news!
Fight for justice in a world where all anime genres exist at once!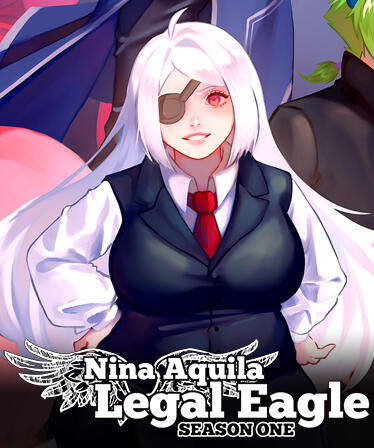 NINA AQUILA: LEGAL EAGLE, SEASON ONE Features
A VN / Adventure / Anime Story Spectacular
10 hours of story told over 3 chapters, presented in an anime TV-show style format
---
Investigate, Participate, Defend!
Intriguing investigations involving vibrant characters & humorous scenarios - billionaire gaming tycoons, ancient religions, shadowy conspiracies and so much more
---
Innovative Activities & Minigames
Out-of-court action! Rise up in the world of illegal street racing and battle to the top of the ladder at a trading card game tournament!
The indie hit comes to Steam!
---


---
Includes 3 thrilling chapters:

"First Flight"
When Nina Aquila, freshly qualified defense attorney, takes part in her last supervised trial, she sets events in motion that will cause her career to become a casualty of a secret war. A great game is being played for the heart of Fledge City by the ruthless and powerful, one that Nina will have to uncover one case at a time.

Step into court and defend a young woman cosplaying as a fire mage, who stands accused of arson! In this trial, Anya will show you the ropes of how NALE works, while setting events in motion that will change Nina's life forever.
---

"Broken Wings"
Several weeks after Chapter I, Nina's life is in turmoil after a costly defeat in court. Her confidence shattered, Nina holes up in her office until a visitor comes to the door - one who believes that only she can help him. A murder has been committed at the High Flyers Casino. The victim? A celebrity player of a trading card game, "Dragon Fantasy Arena", on the eve of the national tournament!

Who would commit murder over a children's card game? And why?

Surrounded by hot-blooded heroes and dastardly cosplaying villains, Nina will need all her cunning if she's to make the best of a bad draw... Or her client's going to be sent to the graveyard!
---

"Legal Stage"
Following on from Chapter II, Nina and Dylan have been looking into the events surrounding a key trial and arrest, but the volume of evidence is huge, and weeks have already passed without any leads. Still, Aquila Defense & Law is a business, and when a person calling himself "The Jack of Diamonds" comes to the door in the middle of the night, Nina and Dylan are forced to take up his case.

Something is wrong up in the mountains. Shockwaves are ringing through the world of Fledge City's illegal street racing scene: Clara Mass, longtime racer and "The Ace of Spades" has been murdered during a race, and several other racers stand accused of the crime! The fragile truce between the street racing groups is being stretched to breaking point, and police involvement threatens to end mountain road racing once and for all!

Now, Nina and Dylan must journey north of the streets of Fledge City to the snow-covered passes of The Rostro Spire, the tallest mountain in the region, to search for answers amid the high-octane sub-culture of Touge Janken Racing...

... but some truths can only be found in the heart of the drift!
All three of these chapters are included in NINA AQUILA: LEGAL EAGLE, SEASON ONE
---
Enhancements
---
---
---
Coming soon!
Sign up below to find out about the enhancements that make NINA AQUILA: LEGAL EAGLE, SEASON ONE the definitive NALE experience!
---
About
NINA AQUILA: LEGAL EAGLE, SEASON ONE is a hybrid VN/adventure game, with 10 hours of story presented in the style of an anime TV show. Players step into the shoes of Nina Aquila, a rookie defense attorney, and must defend clients accused of major crimes by investigating crime scenes, interrogating witnesses, and winning at turn-based battles with varied themes.

NINA AQUILA: LEGAL EAGLE, SEASON ONE contains three different cases, themed around cosplay, card games & illegal mountain street racing!
Investigate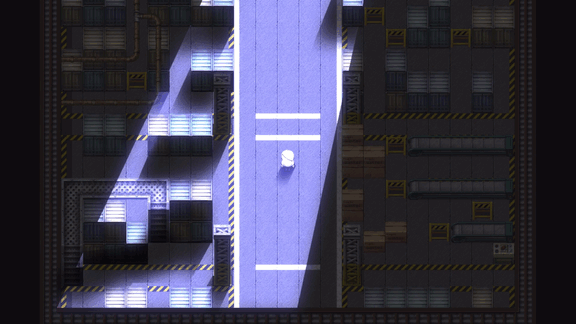 Explore crime scenes & interrogate witnesses to find clues that will support your client's case
Participate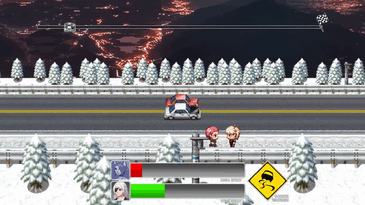 Sometimes clues aren't just lying around! Take part in activities to earn respect & find answers
Defend!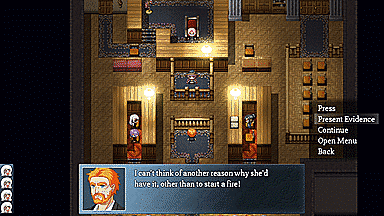 With your evidence in-hand, head to court to do battle with the prosecution & fight for justice!
Premise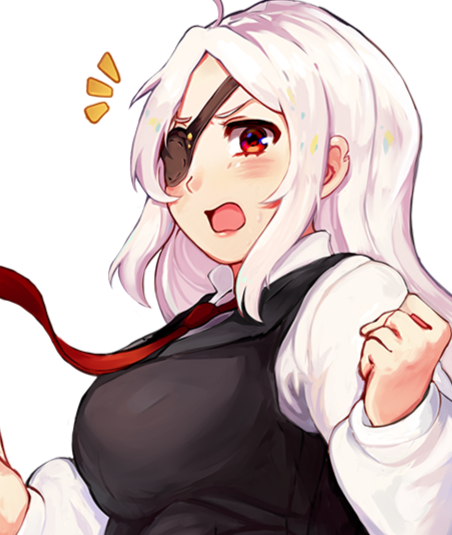 ---
When Nina Aquila, freshly qualified defense attorney, takes part in her last supervised trial, she sets events in motion that will cause her career to become a casualty of a secret war - a war that, unbeknownst to her, is connected to Nina's own past.

A great game is being played for the heart of Fledge City by the ruthless and powerful, and right now, Nina has yet to know who is playing, much less the rules.

Injustice comes in all shapes and sizes, and Nina will need to hone her skills and forge new alliances if she's to uncover the truth.
---
History
NINA AQUILA: LEGAL EAGLE, SEASON ONE is an enhanced collection of the game's three chapters, which have previously seen release separately on indie platforms such as Itch.io, GameJolt and Newgrounds to much acclaim.
---


---
NALE Chapter I was released in 2018, followed by Chapter II in 2019 and Chapter III in 2020.

The series has maintained a 5-star rating in over 200 user reviews, and is now coming to Steam, in this new collected release!
Content Warnings
NINA AQUILA: LEGAL EAGLE, SEASON ONE is aimed at an adult audience, but is broadly SFW, with no excessive violence, gore or erotic content. However, the game involves themes of crime, in particular murder.

Those who are particularly affected by themes of arson or death by car accident may wish to read more about NALE before playing.
Developer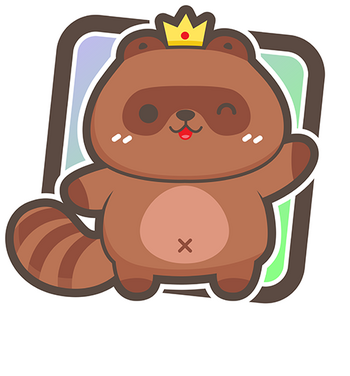 NINA AQUILA: LEGAL EAGLE, SEASON ONE was created by Tanuki-sama Studios, based in Brighton, UK.

TSS is owned and operated by indie devloper Ethan Fox.

More info about TSS can be found HERE.
---
---
Accessibility
Disclaimer
Use of options to "reduce effect intensity" may make the NALE chapters more comfortable for players who are photosensitive. However, even with these enabled, TSS does not guarantee that the game is "safe" for all players (we simply can't cover the huge range of possible photosensitive conditions).

We still advocate that players who have photosensitive conditions seek medical advice before playing NALE, and take typical precautions, such as playing in a well-lit room and not playing while in a fatigued state.
Breakdown of Accessibility Options
While we've made attempts in many cases to preserve the flow of the game when accessibility options are turned on, some of these changes have modified the game's atmosphere or the pacing of cutscenes. As a result, we suggest players who are not particularly photosensitive keep all of these settings at their defaults - namely:

Reduced Effect Intensity OFF
Screen Flashes ON
Screen Shakes ON
Battle Camera ON
For players with reduced dexterity
NALE is a Visual Novel/Graphic Adventure hybrid. As a result, in all present chapters so far, there are zero elements which require twitch skills or timed reactions. We believe that players with limited dexterity should be able to play the game without problems.
Colour perception/colour-blindness
NALE has been designed so that there are no aspects to its gameplay that hinge on the perception of colour. Users with most common forms of colour-blindness should not have any problems playing NALE to its fullest. As a result, there are no "colour-blindness options", as the game simply does not require them.
Battle Difficulty
Both NALE Chapters 2 & 3 involve "battle" sequences. Each of these chapters offers the player the choice between a mode where the player can lose, and a mode where they can never lose. This choice is offered to the player during each mode's tutorial.

Note that in each chapter, the penalty for losing a battle is simply that the player can try again.

In Chapter 2, if players lose a battle, they are offered the choice to shift into the "can never lose" mode.

In Chapter 3, players can change modes at any time by "using" Nina's car, at the Rostro Vista parking lot.

There is no penalty for for using these "can never lose" modes, nor is there any bonus for not using them. Players can just decide if they want that challenge, or would prefer not to have it. The game plays out identically either way.
Reduced Effect Intensity
There are several options which can adjust the intensity of onscreen effects:

Screen flashes - Default ON - Turn OFF to disable screen flashes. Generally this removes the flashes on effects like lightning in storm scenes, or attack animations. However, on its own this does not remove white transitions or many smaller intense effects (turn "Reduced Effect Intensity" ON for this).

Screen shakes - Default ON - Turn OFF to disable screen shakes. This may be of interest to players who suffer from motion sickness.

Battle camera - Default ON - Turn OFF to stabilise the camera during battles, which may help users who experience motion sickness in these situations. In Chapter 3's race battles, the camera now moves when required to indicate something important; mist cosmetic movement has been removed or heavily toned down.

Reduced Effect Intensity - Default OFF - Turned ON to reduce certain effects, which are given in more detail below.

Volume settings - Default 60% - players can control the volume for SFX, music and event sounds.
Players who are audio-sensitive may wish to reduce these values.

NOTE: NALE's cinematic roving cutscene camera cannot be disabled. This is because the camera's framing is a fundamental part of how the game works (often, just outside the camera shot, players would see random characters or props, not dissimilar to being able to see backstage during a theatre performance).

To fully engage the options that reduce visual discomfort for photo-sensitive users, we recommend…

Reduced Effect Intensity ON
Screen Flashes OFF
Screen Shakes OFF
Battle Camera OFF
Further Information
For more info about these accessibility areas, we've provided this resource: CLICK HERE
---
Characters
---
---
---
Coming soon!
Sign up below & check back later for details on NALE's key characters!
---